Treatments
Neuromuscular Physical Therapy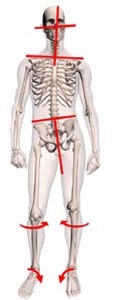 The foot does not simply bear the weight of the whole body but the bones, ligaments and muscles absorb an enormous amount of impact over a lifetime. Problems occurring in the ankles, knees, hips and tag heuer replica uk will nearly always merit examination of the feet. If pain is serious enough to limit your activities and life enjoyment, you might think that your pain must have some severe cause that can only be treated with extreme measures like surgery or expensive "custom" orthotics. Neuromuscular Physical Therapy is cartier replica sale in alleviating the cause of pain.
If we look at the picture on the left, we can see that if a problems starts in the foot, it can start a chain reaction that can lead to pain elsewhere in the body. It is important, therefore, to look after your feet, like a house built on bad foundations eventually pieces of the house will start to fall down.
If you are experiencing pain in your ankles, legs, knees, hips, lower back, neck or even headaches, consider that there is increased tension and muscle imbalance forming elsewhere in the body possibly because of fake rolex sale stresses which can be caused by your feet.
Treatment: - €50 for relief from pain and discomfort
Conditions that can be treated include...
Lower Back Pain * Muscle Spasms * Neck Pain * Postural Distortions
Tennis/Golfers Elbow * Shin Splints * Shoulder Pain * Tendonitis
Hip Pain Tiredness * Fatigue * Knee Pain * Foot Pain * Migraines
Stress Related Conditions * Sciatica * Changes in Sensation
Poor Circulation * Whiplash * Carpel Tunnel Syndrome
Other Available Treatments
Sports Massage
Not for the Faint Hearted, this deep tissue process fake rolex sale the stresses of muscular overuse which can incorporate deep strokes, trigger point work and neuromuscular techniques that can achieve enhanced recovery from sport or injury. You choose which part of the body needs the attention.
60 minutes....................... €50.00
30 minutes....................... €35.00
Relaxation Therapeutic Massage
Focus is given to the body with the rolex replica sale of relieving the symptoms of stress, increasing relaxation while improving circulation. Swedish massage and other techniques are used to achieve the right balance for each client.
90 minutes....................... €70.00
60 minutes....................... €50.00
30 minutes....................... €35.00
Pre & Post Natal massage / Pregnancy Massage
Improving overall health and reducing the negative effects of stress on mother and baby are all positive benefits from regular massage during pregnancy. It can help to manage many of the symptoms and conditions associated with this very special time and provides time and space to prepare the body both physically and emotionally for childbirth. All our treatments are semi-reclined &side lying for optimum comfort.
75 minutes....................... €60.00

Mobile Healing Hands
Can't spare the time? No one to mind the children? In too much pain to travel?
Palm Physical Therapy will treat you in the comfort of your own home or office.
Add €15 to all 60 minute or more treatments
Click here to review Palm Physical Therapy Terms and Conditions